Learn to defend yourself effectively
We use traditional Japanese Ju-Jitsu martial arts in modern situations of conflict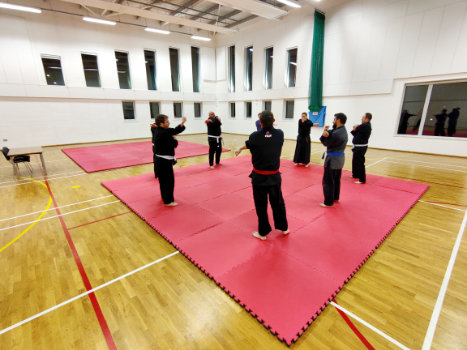 Martial Arts of Bristol & Chard
Welcome to the school of Shorinji Ryu Aiki-Jutsu (incorporating Aikido and Ju Jitsu), in Bristol and Chard, UK.

Aiki-Jutsu is a traditional Japanese art that compromises Jujutsu and Aikido to focus on defence in any environment.

At the Bristol & Chard Shorinji Ryu Aiki-Jutsu School this is no exception, and we teach students of all ages how to be more confident in themselves and their capabilities. As a student you learn how to avoid trouble, and if unavoidable, how to defend yourself effectively and efficiently. We emphasise on never engaging an attack, and how to end one quickly.

Every student has a grading syllabus to follow, however we like to extend our students knowledge in the dojo beyond a set of throws and locks. This is to ensure that you do not just become a walking book of moves but incorporate the martial art of defence into your own natural well-being thus react without thinking whilst keeping very calm and with a prominent posture.

We always welcome new members to our sessions and are confident that you will appreciate the safe and friendly atmosphere and the effectiveness of this form of Ju-jitsu. Feel free to come along to any of our sessions. You never know what it is really like until you try it out.
Session Times
Bristol
Every Thursday: 8:00pm - 10:00pm (2 hours)
Sensei Adam Saunders 3rd Dan Black Belt
Lyde Green Community Centre
Thistle Cl,
Lyde Green,
Emersons Green,
Bristol
BS16 7GW
Cost
Adults: £25 per month (first trial session free)
One-To-One: £35 per hour session (see below)
Chard
Every Sunday: 6:00pm - 7:30pm
Sensei Andy Eitzen 4th Dan Black Belt
St Mary's Church Hall
Chard,
TA20 2EA
Cost
Adults: £6.00 per session
One-To-One Sessions
For some that already have martial arts experience may wish to have a more focused one-to-one tuition. We can now offer this at the Bristol School. It is specially designated for those that wish to have an in-depth look into specific aspects they either wish to expand on, or to work on complementary martial arts to sessions they already are taking (commonly leading up to their grading).
There are extremely limited times and spaces available for one-to-one sessions and they come on a first come first served basis. Payments will need to be taken at the time of booking to cover the hall fees.
To book, please come along to one of our regular sessions to speak to the instructor directly.